HJC F70 Samos Full Face Motorcycle Helmet

HJC F70 Samos Full Face Motorcycle Helmet
All new helmets are sold with Clear visor . Smoke visor on picture are for illustration purposes only
The new F70 combines cutting-edge design with upgraded features for a fresh, must-have helmet. If you're a rider who likes to stay ahead of the pack, this first addition to a new generation of helmets is calling your name. The unique design includes an aggressive-looking breath guard and maximized ventilation from two top vents and five rear exhaust escapes. Convenience is key with the internal, anti-fog coated dropdown sun shield controlled by a smooth, easy to reach lever on the bottom of the shell. This helmet is Bluetooth compatible with SmartHJC. Available in sizes XS-2XL.
SPECIFICATIONS
Sizing
| Size | Cheek | Pads | Liner |
| --- | --- | --- | --- |
| XS | 53-54 cm | 45mm | 21mm |
| S | 55-56 cm | 40mm | 18mm |
| M | 57-58 cm | 35mm | 15mm |
| L | 59-60 cm | 40mm | 15mm |
| XL | 61-62 cm | 35mm | 12mm |
| 2XL | 63-64 cm | 30mm | 9mm |
VISOR / SUN SHIELD OPTIONS
HJ-32 PINLOCK® PREPARED VISOR
HJ-32 RST PINLOCK® PREPARED VISOR
HJ-V9 SUN SHIELD
REPLACEMENT PARTS
TOP / REAR VENT
SUN SHIELD
GEAR PLATE
BREATH DEFLECTOR
CHIN CURTAIN
CHEEK PADS
HEADLINER
Technical Features
SMART HJC
SMART HJC 20B and 10B Bluetooth communication system co-developed with SENA tailored specially for HJC helmets. SMART HJC can be installed on HJC's various models and due to the compact size and aerodynamic design of the Bluetooth unit, it enhances the overall look and aerodynamic design of the shell. *All SMART HJC devices sold separately.
CARBON FIBER SHELL
Carbon Fiber Outer Shell provides a lightweight and comfortable shell with enhanced Shock-Resistant performance.
STANDARD ECE
Meets or exceeds ECE 22.05 approved. Testing includes energy attenuation, penetration resistance, chin strap structural integrity and labeling requirements for on-road motorcycle helmets.
VISOR: HJ-32
All HJC shields offer 99% UV-A & B protection
Anti-fog lens pin prepared shield and includes Anti-fog insert lens.
SUN SHIELD: HJ-V9
Integrated Sun Visor: Improved peripheral vision and excellent sunlight blocking help to reduce eye strain. Anti-Fog and Anti-Scratch coated.
MULTICOOL & SUPERCOOL INTERIOR
It provides enhanced moisture-wicking and quick-drying functions, superior to the previous generation.
ACS - ADVANCED CHANNELING VENTILATION SYSTEM
HJC's helmets, along with our technology, have added experience in designing the MotoGP race helmets to have the best technology in aerodynamics and ventilation and related fields. HJC's helmets provide the airiest helmets on the market. Experience the best performance with your HJC helmet.
F70 FEATURES
BREATH DEFLECTOR & CHIN CURTAIN INCLUDED DOUBLE D-RING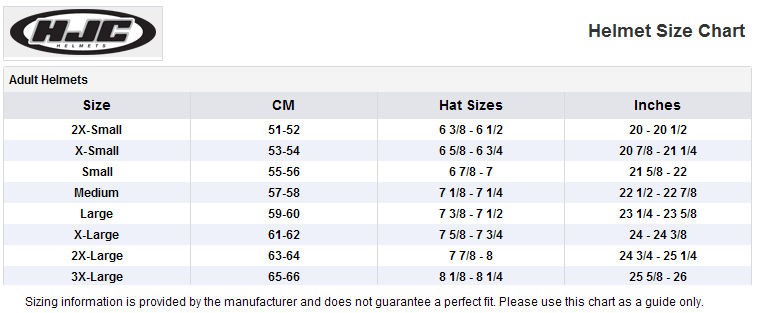 SHELL CLEANING
Only use approved methods to clean the helmet. Using other unapproved chemicals or methods may damage the helmet shell or lining. A damaged helmet may increase your risk of serious injury or death in an accident.
Glossy Finish: HJC recommends cleaning your helmet with products designed for automotive cleaning and polishing. All HJC helmets are finished with an automotive type base coat/clear coat finish. Rubbing compounds can be used for deep cleaning to remove many scratches and scuffs. Follow the product's instructions diligently. Over polishing with rubbing compounds can cause light abrasions which may dull the finish of your helmet. Stickers and decals will leave adhesive residue when removed. To remove the adhesive residue, use alcohol swabs. Be certain to immediately wipe away the excess liquid and clean the area with soap and water once the adhesive residue is removed. Do not use excessive pressure while rubbing when attempting to remove the adhesive residue, instead use multiple light treatments.
Non-Glossy Finish: For our flat finish (non-glossy) helmets, we recommend using warm water and mild soap. Use multiple treatments for heavier dirt. Do not use excessive pressure or rubbing compounds while cleaning the surface as a "glossy" effect could be created, ruining the flat finish appearance.
INTERIOR CLEANING
Although we recommend changing a helmet every 3 to 5 years, the accumulation of sweat, humidity, and dirt can deteriorate the fabric and stitching and this may cause odor. To wash HJC removable pads, HJC recommends regular machine washing and air drying.
For non-removable interiors, HJC recommends using bacteria and mildew eliminating products such as "Helmet Fresh".
VENT CLEANING
Dirt and debris can find its way into the venting of your HJC helmet. Compressed air cans used for cleaning computer keyboards may be used to blow the debris from the ventilation system. It is recommended that you remove any removable pads before doing this process.
REPLACEMENT PARTS
Use of replacement parts not manufactured by HJC may increase your risk of serious injury or death in an accident. Only use HJC parts that are specifically designed to work with this helmet.
DO NOT MODIFY YOUR HELMET
Your HJC helmet is designed to meet SNELL and DOT standards. Contact HJC America for more information about SNELL and DOT standards. Modifying your helmet may increase your risk of serious injury or death in an accident. Do not modify your HJC helmet. Modifications include the following:
drilling holes;
cutting shell, liner, or strap;
modifying the retention system, including adding a chin cup;
removing parts;
painting and attaching accessories that are not manufactured by HJC for this helmet.
If you have any questions about modifications, please email us at info@hjchelmets.com.
STORING YOUR HELMET CORRECTLY
An improperly stored helmet can become damaged and may increase your risk of serious injury or death in an accident. You should:
Store helmet in a cool and dry place,
Keep helmet away from pets and other animals,
Keep helmet away from the heat in excess of 50ºC and do not set on or near hot surfaces.