HJC FG-17 Banshee MC6 Full-Face Motorcycle Helmet

All new helmets are sold with Clear visor . Smoke visor on picture are for illustration purposes only
HJC FG-17 Banshee MC6 Full-Face Motorcycle Helmet
Since 1971, HJC has specialized in manufacturing motorcycle helmets exclusively. As HJC approaches 43 years in the making of Motorcycle helmets, we pledge again our commitment to provide highest quality Motorcycle helmets to motorcyclists in Europe and around the globe.
The race-ready helmet tested at Wind Tunnel Laboratory
Advanced Fiberglass Composite Shell: Lightweight, superior fit and comfort using advanced CAD technology
For a perfect fit, the FG-17 comes in 3 different shells: 1st shell for XS-S sizing, 2nd for M-L sizing and 3rd for XL-3XL sizing
All sizes of cheek pads are interchangeable in all helmet sizes
SilverCool™ Interior: Moisture-wicking and odor-free liners with advanced anti-bacterial fabric
Crown and cheek pads are fully removable and washable
Superior Fog Resistant Clear Pinlock® Max Vision Shield (HJ-20M): New 3D design provides 95% UV protection, anti-scratch coating and is prepared for the ultimate anti-fog Pinlock insert (sold separately)
Innovative center shield locking mechanism for a balanced, ultra-secure seal
RapidFire™ II Shield Replacement System: Quick, secure, tool-less removal and installation
"ACS" Advanced Channeling Ventilation System: Full front to back airflow flushes heat and humidity up and out
Meets or exceeds both SNELL & D.O.T. standards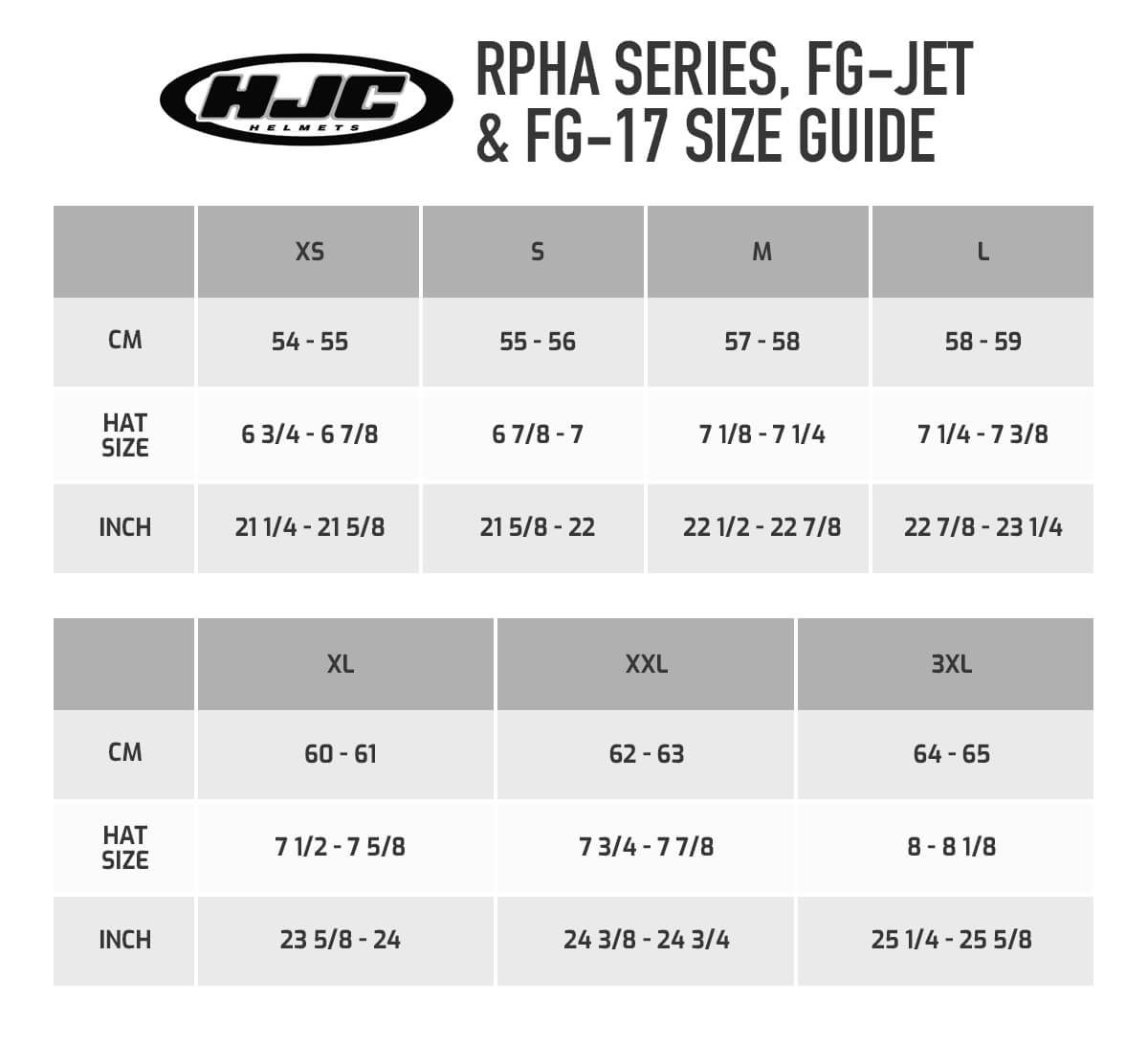 SHELL CLEANING
Only use approved methods to clean the helmet. Using other unapproved chemicals or methods may damage the helmet shell or lining. A damaged helmet may increase your risk of serious injury or death in an accident.
Glossy Finish: HJC recommends cleaning your helmet with products designed for automotive cleaning and polishing. All HJC helmets are finished with an automotive type base coat/clear coat finish. Rubbing compounds can be used for deep cleaning to remove many scratches and scuffs. Follow the product's instructions diligently. Over polishing with rubbing compounds can cause light abrasions which may dull the finish of your helmet. Stickers and decals will leave adhesive residue when removed. To remove the adhesive residue, use alcohol swabs. Be certain to immediately wipe away the excess liquid and clean the area with soap and water once the adhesive residue is removed. Do not use excessive pressure while rubbing when attempting to remove the adhesive residue, instead use multiple light treatments.
Non-Glossy Finish: For our flat finish (non-glossy) helmets, we recommend using warm water and mild soap. Use multiple treatments for heavier dirt. Do not use excessive pressure or rubbing compounds while cleaning the surface as a "glossy" effect could be created, ruining the flat finish appearance.
INTERIOR CLEANING
Although we recommend changing a helmet every 3 to 5 years, the accumulation of sweat, humidity, and dirt can deteriorate the fabric and stitching and this may cause odor. To wash HJC removable pads, HJC recommends regular machine washing and air drying.
For non-removable interiors, HJC recommends using bacteria and mildew eliminating products such as "Helmet Fresh".
VENT CLEANING
Dirt and debris can find its way into the venting of your HJC helmet. Compressed air cans used for cleaning computer keyboards may be used to blow the debris from the ventilation system. It is recommended that you remove any removable pads before doing this process.
REPLACEMENT PARTS
Use of replacement parts not manufactured by HJC may increase your risk of serious injury or death in an accident. Only use HJC parts that are specifically designed to work with this helmet.
DO NOT MODIFY YOUR HELMET
Your HJC helmet is designed to meet SNELL and DOT standards. Contact HJC America for more information about SNELL and DOT standards. Modifying your helmet may increase your risk of serious injury or death in an accident. Do not modify your HJC helmet. Modifications include the following:
drilling holes;
cutting shell, liner, or strap;
modifying the retention system, including adding a chin cup;
removing parts;
painting and attaching accessories that are not manufactured by HJC for this helmet.
If you have any questions about modifications, please email us at info@hjchelmets.com.
STORING YOUR HELMET CORRECTLY
An improperly stored helmet can become damaged and may increase your risk of serious injury or death in an accident. You should:
Store helmet in a cool and dry place,
Keep helmet away from pets and other animals,
Keep helmet away from the heat in excess of 50ºC and do not set on or near hot surfaces.