SBS 900SP Break Pads

SBS STREET PERFORMANCE EVO Pads
SP is a performance upgrade for modern street bikes. As motorcycle technology advances, so should its brake pads and SP is a big step forward in sinter metal brake pad performance.
SP features a strong initial bite for that instant stopping power that is easy to modulate. With SP, it takes very little lever effort to get to maximum braking and let the ABS do its job.
SP is engineered for very long pad life, and it is very easy on brake rotors.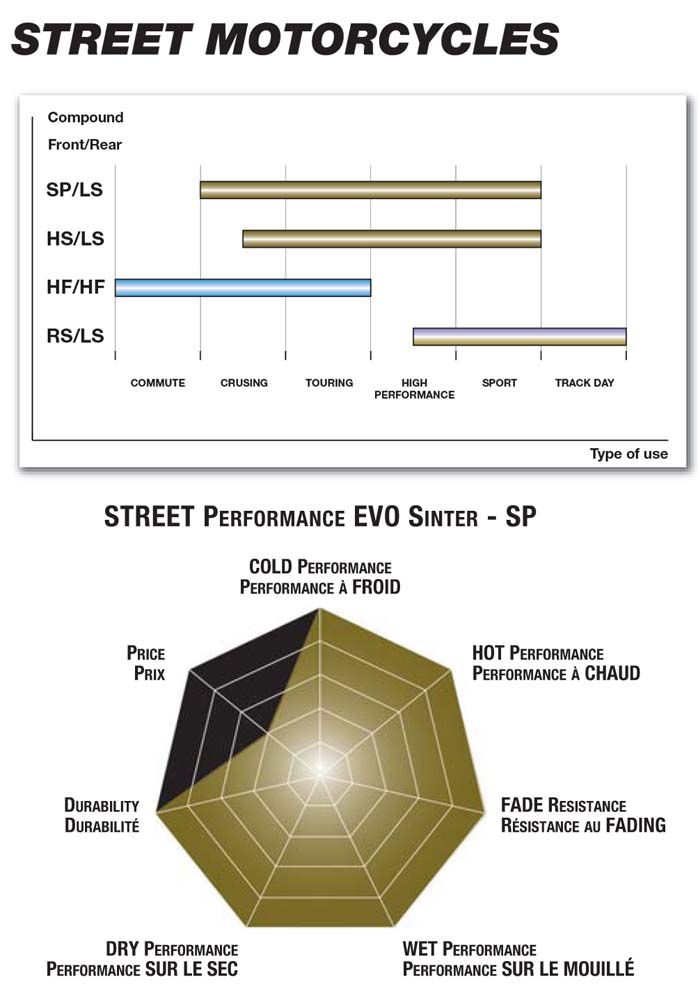 Please Note that every product is a set of pads for 1 caliper therefore for 1 disk, so if your bike has two front disk the right quantity is 2 products
We work hard every day to correct any application mistake, we published all the information we have to let you check if the pads are correct, before ordering use the informations you find on our web site,
We provided all the tools to ensure the compatibility, on our part we can not be responsible for any application mistake, however , before and after your purchase we will be glad to assist you, to advise and to solve any issues and to facilitate an eventual replacement .
| Brand | Model | Year |
| --- | --- | --- |
| APRILIA | Caponord-1200 | 2013 - 2019 |
| APRILIA | Caponord Rally-1200 | 2015 - 2019 |
| APRILIA | Caponord Travel Pack-1200 | 2016 - 2019 |
| APRILIA | RSV Tuono V4-1100 | 2015 |
| APRILIA | RSV Tuono V4 Factory-1100 | 2015 - 2016 |
| APRILIA | RSV Tuono V4 R-1000 | 2014 |
| APRILIA | RSV Tuono V4 RR-1100 | 2015 - 2016 |
| BENELLI | Leoncino-800 | 2020 |
| BENELLI | S-752 | 2020 |
| BMW | F R-800 | 2015 - 2018 |
| BMW | F R-900 | 2020 - 2022 |
| BMW | F XR-900 | 2020 - 2022 |
| BMW | R GS-1200 | 2013 - 2018 |
| BMW | R GS Adventure-1200 | 2014 - 2016 |
| BMW | R Nine-T-1200 | 2014 - 2022 |
| BMW | R R-1200 | 2015 - 2018 |
| BMW | R R-1250 | 2019 - 2022 |
| BMW | R RS-1200 | 2014 - 2018 |
| BMW | R RS-1250 | 2019 - 2022 |
| BMW | R RT-1200 | 2014 - 2018 |
| BMW | S XR-1000 | 2015 - 2019 |
| CAN-AM | Spyder F3-1330 | 2015 - 2019 |
| CAN-AM | Spyder F3 Limited-1330 | 2016 - 2019 |
| CAN-AM | Spyder F3-S-1330 | 2015 - 2019 |
| CAN-AM | Spyder F3-T-1330 | 2016 - 2019 |
| CAN-AM | Spyder RS-1330 | 2014 - 2016 |
| CAN-AM | Spyder RS RSS-1330 | 2013 |
| CAN-AM | Spyder RSS-1330 | 2014 - 2015 |
| CAN-AM | Spyder RSS Special Series-1330 | 2015 |
| CAN-AM | Spyder RT-1330 | 2014 - 2018 |
| CAN-AM | Spyder RT Limited-1330 | 2013 - 2019 |
| CAN-AM | Spyder RT RTS-1330 | 2013 |
| CAN-AM | Spyder RTS-1330 | 2014 - 2015 |
| CAN-AM | Spyder RTS Special Series-1330 | 2015 |
| CAN-AM | Spyder ST-1330 | 2014 - 2016 |
| CAN-AM | Spyder ST Limited-1330 | 2013 - 2015 |
| CAN-AM | Spyder ST STS-1330 | 2013 |
| CAN-AM | Spyder STS-1330 | 2014 - 2015 |
| CAN-AM | Spyder STS Special Series-1330 | 2015 |
| DUCATI | Diavel-1260 | 2019 - 2022 |
| DUCATI | Hypermotard-821 | 2013 - 2016 |
| DUCATI | Hypermotard-939 | 2016 - 2018 |
| DUCATI | Hypermotard-950 | 2019 - 2022 |
| DUCATI | Hypermotard ABS-821 | 2013 - 2016 |
| DUCATI | Hypermotard SP-821 | 2013 - 2016 |
| DUCATI | Hypermotard SP-939 | 2016 - 2018 |
| DUCATI | Hypermotard SP-950 | 2019 - 2022 |
| DUCATI | Hypermotard SP ABS-821 | 2013 - 2016 |
| DUCATI | Hyperstrada-821 | 2013 - 2016 |
| DUCATI | Hyperstrada-939 | 2016 |
| DUCATI | Hyperstrada ABS-821 | 2013 - 2016 |
| DUCATI | Monster-797 | 2017 - 2021 |
| DUCATI | Monster-821 | 2014 - 2021 |
| DUCATI | Monster-937 | 2020 - 2022 |
| DUCATI | Monster-1200 | 2014 - 2021 |
| DUCATI | Monster +-937 | 2020 - 2022 |
| DUCATI | Monster Dark-821 | 2015 - 2016 |
| DUCATI | Monster Stealth-821 | 2019 - 2021 |
| DUCATI | Monster+-797 | 2017 - 2020 |
| DUCATI | Multistrada-950 | 2017 - 2022 |
| DUCATI | Multistrada-1200 | 2015 - 2016 |
| DUCATI | Multistrada Enduro-1200 | 2016 - 2018 |
| DUCATI | Multistrada Enduro-1260 | 2019 - 2021 |
| DUCATI | Multistrada Enduro Pro-1200 | 2018 |
| DUCATI | Multistrada S-950 | 2019 - 2022 |
| DUCATI | Multistrada V4-1158 | 2021 |
| DUCATI | Scrambler-803 | 2017 - 2018 |
| DUCATI | Scrambler-1100 | 2018 - 2019 |
| DUCATI | Scrambler Classic-803 | 2015 - 2019 |
| DUCATI | Scrambler CR-803 | 2017 - 2020 |
| DUCATI | Scrambler CR Cafe Racer-803 | 2017 - 2020 |
| DUCATI | Scrambler Dark Pro-1100 | 2020 - 2022 |
| DUCATI | Scrambler Desert X-1100 | 2020 |
| DUCATI | Scrambler Enduro-803 | 2015 - 2016 |
| DUCATI | Scrambler Flat Track Pro-803 | 2016 |
| DUCATI | Scrambler Full Throttle-803 | 2015 - 2020 |
| DUCATI | Scrambler Icon-803 | 2015 - 2022 |
| DUCATI | Scrambler Icon Dark-803 | 2020 - 2022 |
| DUCATI | Scrambler Mach 2.0-803 | 2018 |
| DUCATI | Scrambler Pro-1100 | 2020 - 2022 |
| DUCATI | Scrambler SCR-803 | 2020 |
| DUCATI | Scrambler Special-1100 | 2018 - 2019 |
| DUCATI | Scrambler Sport-1100 | 2018 - 2019 |
| DUCATI | Scrambler Sport Pro-1100 | 2020 - 2022 |
| DUCATI | Scrambler Street Classic-803 | 2017 - 2018 |
| DUCATI | Scrambler Urban Enduro-803 | 2015 - 2018 |
| DUCATI | Scrambler-X DS Desert Sled-803 | 2017 - 2022 |
| DUCATI | Supersport-950 | 2020 - 2022 |
| DUCATI | SuperSport-939 | 2017 - 2020 |
| DUCATI | Supersport S-950 | 2020 - 2022 |
| DUCATI | SuperSport S-939 | 2017 - 2020 |
| FANTIC | Caballero-500 | 2017 |
| INDIAN | Challenger-1800 | 2020 |
| INDIAN | Challenger Dark Horse-1800 | 2020 |
| INDIAN | Challenger Limited-1800 | 2020 |
| INDIAN | FTR-1200 | 2019 - 2020 |
| INDIAN | FTR S-1200 | 2019 - 2020 |
| Kawasaki | Z H2-1000 | 2020 - 2021 |
| MV AGUSTA | Rivale-800 | 2013 - 2017 |
| MV AGUSTA | Stradale-800 | 2015 - 2016 |
| MV AGUSTA | Turismo Veloce-800 | 2014 - 2019 |
| MV AGUSTA | Turismo Veloce Lusso-800 | 2014 - 2020 |
| MV AGUSTA | Turismo Veloce RC-800 | 2017 - 2020 |
| NORTON | Commando Cafe Racer MKII-961 | 2018 - 2019 |
| NORTON | Commando Sport-961 | 2018 - 2019 |
| NORTON | Dominator Naked-961 | 2017 - 2019 |
| SWM | Varez-400 | 2020 |
| TRIUMPH | Rocket III GT-2500 | 2019 - 2022 |
| TRIUMPH | Rocket III R-2500 | 2019 - 2022 |
| TRIUMPH | Street Triple R-765 | 2017 - 2020 |
| TRIUMPH | Street Triple R Low-765 | 2017 - 2018 |
| TRIUMPH | Tiger Explorer-1200 | 2016 - 2017 |
| TRIUMPH | Tiger XCA-1200 | 2018 - 2020 |
| TRIUMPH | Tiger XCX-1200 | 2018 - 2020 |
| TRIUMPH | Tiger XR-1200 | 2018 - 2019 |
| TRIUMPH | Tiger XRT-1200 | 2018 - 2020 |
| TRIUMPH | Tiger XRX-1200 | 2018 - 2020 |
| TRIUMPH | Tiger XRX Low-1200 | 2018 - 2020 |
| | |
| --- | --- |
| Product type: | Brake pads |
| Quality: | SP |
| Catalog number: | 900 |
| Numbers in set: | 2 |
| Rear plate height: | 50.75 |
| Rear plate width: | 85.00 |
| Total thickness: | 8.00 |