SBS 762DC Front Dual Carbon Brake Pad for Triumph Speed Triple 1050 08-

The SBS DC Dual Carbon road racing compound has since the introduction in 2001 proven to be the "Choice of Champions".
World top racing teams have achieved a long row of race wins, lap records, national and World Championship titles in Superstock, Supersport, Superbike and Endurance racing using SBS Dual Carbon pads.
Characteristics:
Thermal bedding-in and brake fade eliminated by use of DEST technology.
High initial bite
High friction level and progressive brake feel.
High thermal stability.
Consistent brake performance and brake lever position.
Low pad wear.
Rotor friendly due to transfer film generated on disc surface.
Available for the majority of new Superstock, Supersport and racing brake calipers.
Recommended for top level international and national championship road racing.
For race use only
Bedding-in procedure for SBS-DC.
When changing for SBS-DC from using another type of brake pad material - Follow this Bedding-in procedure very carefully:
Remove existing friction material deposit from brake discs - using eg. emery paper #150
Do a series of gentle brakings until pad-surface is in full contact with disc-surface.
After pad/disc contact is achieved - repeated short brakings building up heat in discs and pads until a very thin and uniform dull/black/darkblue layer of friction material (transfer film) is established on the brake disc.
Then a period to allow discs to cool again before proper use.
Then a few easy laps building up heat - ready for race use.
When bedding-in procedure IS needed. Always follow the above bedding-in procedure - when changing for SBS-DC for the first time OR when using new brake discs.
When bedding-in procedure is NOT needed.When brake discs are covered by SBS-DC friction material (transferfilm) - new pads only need about one/two laps to be in full contact with disc-surface - then the pads are race ready (Thermal bedding-in as described above in point 1. - 4. is not needed)
Cleaning of brake discs - NOT when using SBS-DC
When brake discs are covered by SBS-DC friction material (transferfilm) - Do not clean/sand/grind the brake discs after each session.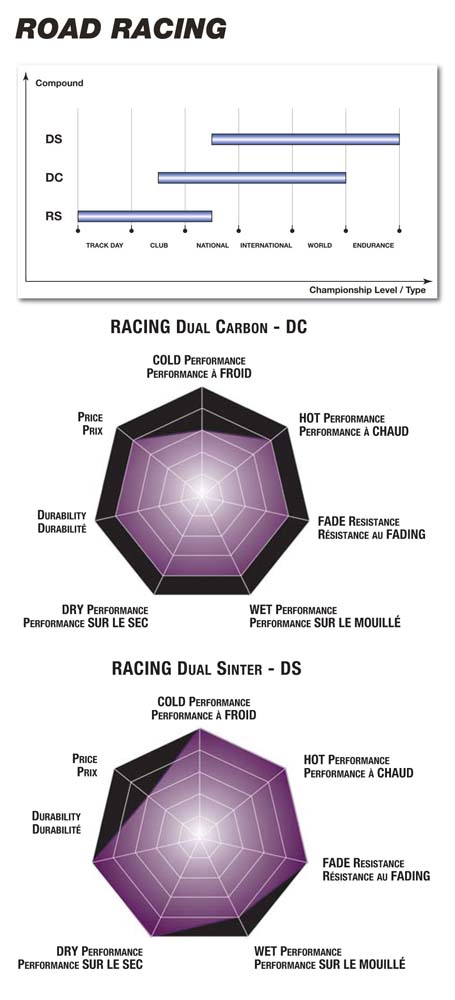 Please Note that every product is a set of pads for 1 caliper therefore for 1 disk, so if your bike has two front disk the right quantity is 2 products
We work hard every day to correct any application mistake, we published all the information we have to let you check if the pads are correct, before ordering use the informations you find on our web site,
We provided all the tools to ensure the compatibility, on our part we can not be responsible for any application mistake, however , before and after your purchase we will be glad to assist you, to advise and to solve any issues and to facilitate an eventual replacement .
| Brand | Product | CC | Year |
| --- | --- | --- | --- |
| BREMBO RACING CALIPERS | Goldline 4 pad 20.7850.11/21, road | 0 | 0 |
| BREMBO RACING CALIPERS | Motard Axial XA32950, P4 34 | 0 | 0 |
| | |
| --- | --- |
| Product type: | Brake pads |
| Quality: | DC |
| Catalog number: | 762 |
| Numbers in set: | 4 |
| Rear plate height: | 40.50 |
| Rear plate width: | 34.90 |
| Total thickness: | 7.50 |